Conditions
Get 1.5% on Lighting, 2.25% on Bathroom, Building, Christmas, Doors_and_windows, Electrical, Flooring_and_tiling, Hardware, Heating, Home, Kitchen, Outdoor, Paint, Tools, and Others
Earn Up to 2.25% Cashback for online purchases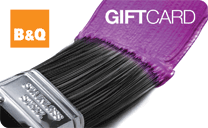 B&Q
Conditions
These gift cards are only redeemable in stores and cannot be spent online. We endeavour to dispatch orders by post within three full working days (Mon-Fri).
2.5% Discount when you buy B&Q Gift Cards
B&Q Online Special offers
Three for two on coloured emulsions excludes white and ready mixed trade. Every third...
Three for two on coloured emulsions excludes white and ready mixed trade. Every third item per single transaction in descending price order free. Valspar paint selected availability online